Al Jauhar Cert Presentation 10 Sept 06 - pt 1
This is coming to our third Certificate Presentation for Al Jauhar Network Promotion (or Darul Ulum Al Jauhar).
Congratulation to all the students who completed their Taisir Qira'atil Qur'an; Tajweed; Talaqqi; Islamic Studies (Module 1 or 2 in English); or Fardu Ain (Module 1 or 2 in Malay).
Ahem... I have completed all of it, if you were to ask me. *blush*
- I am helping at the reception with sis Normah
- Recipients of certificate seated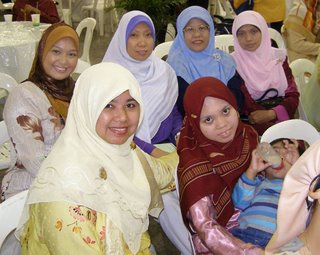 - My sis-in-law with her classmates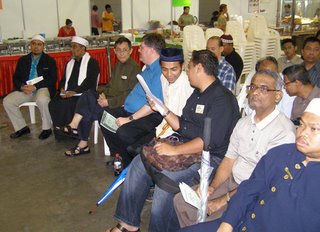 - Far left are the speakers (from left to right): Ust Zul, Ust Ahmad Jelani (Principal of Al Jauhar), recipient, Bro "The Astronomer" (I don't know his name :P), Quran reciter (looking down) and Bro .. ( :P ) Oh dear...